Our School Crest and Motto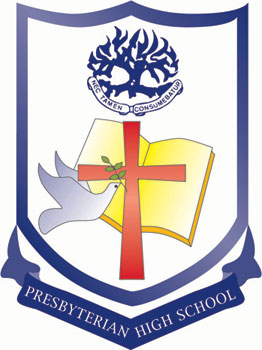 The School Crest is topped by two waves signifying the continuous growth and development of the School from its founding as Li Sun High School to the present Presbyterian High School.
The Dove with a stalk of olive leaves depicts the development of the spiritual and moral life in the School and guides us in our education which is represented by the Book.
The Cross shows our faith in GOD.
The Burning Bush with its motto "AFLAME FOR TRUTH" reminds us that we are part of the community of Christians in Presbyterian Churches all over the world.
The white and blue background represents our School colours: white symbolises our quest for truth while blue symbolises our pursuit of excellence.